Classic
---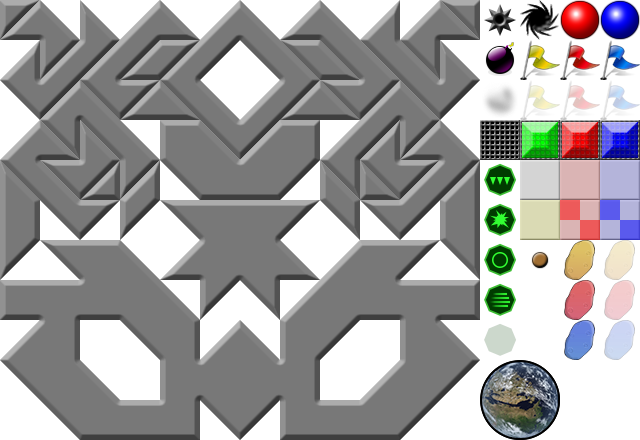 Sniper Pack
---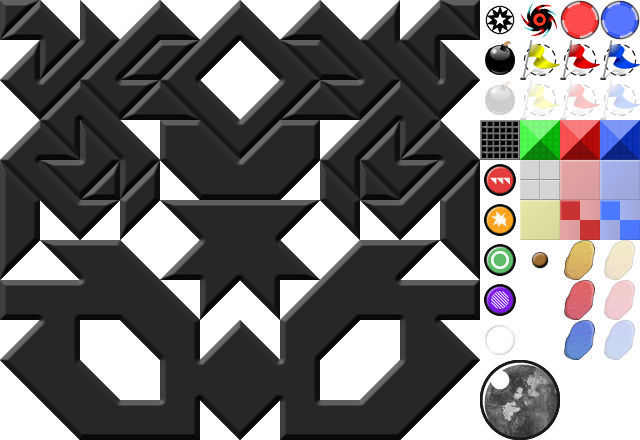 Muscle's Cup Gradients
---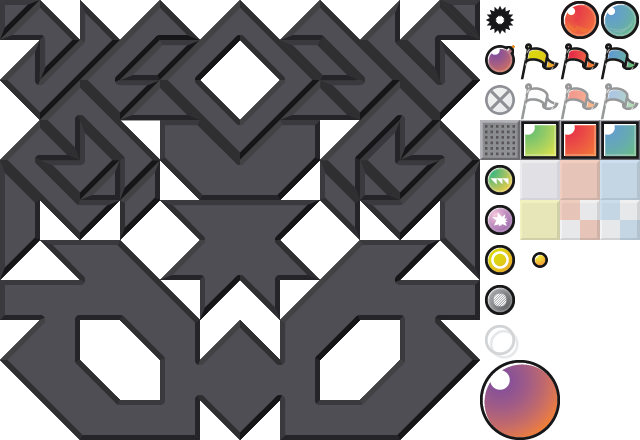 Coral Light
---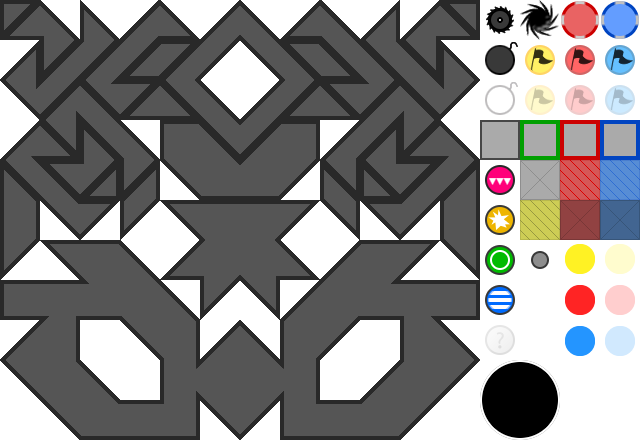 Muscle's Cup OG
---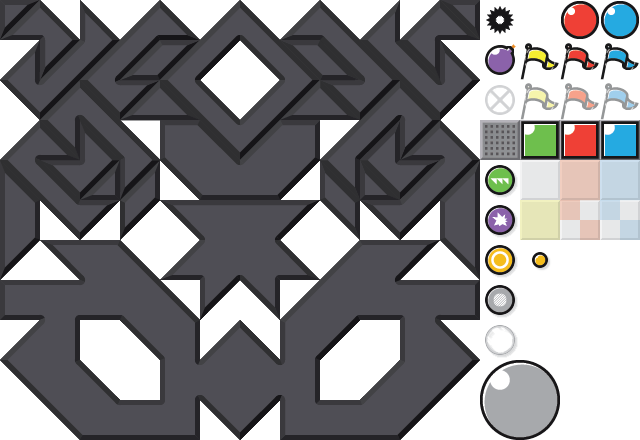 Coral
---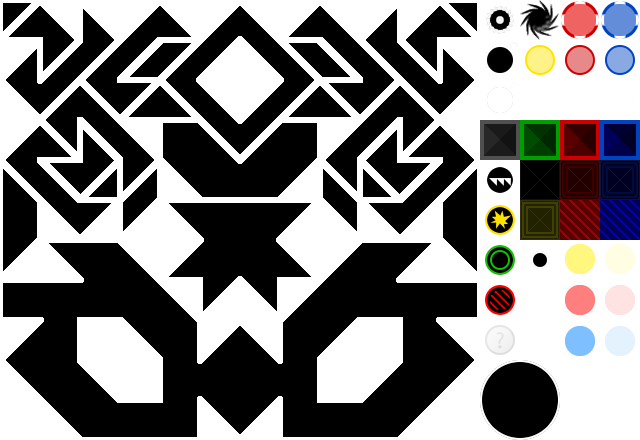 MTBad
---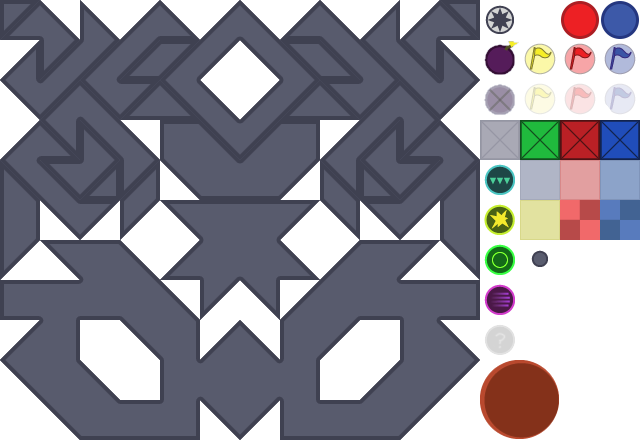 Flat
---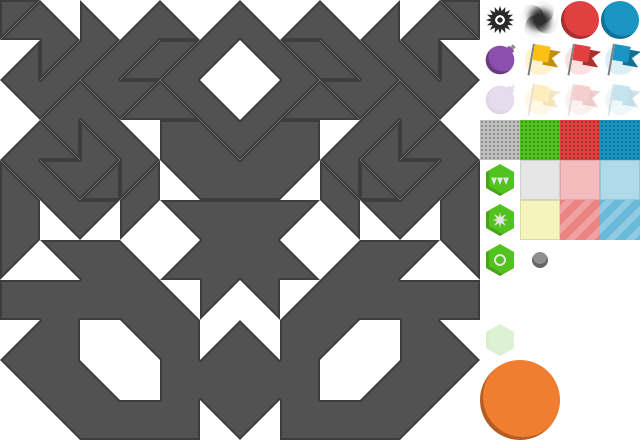 MLTP Live
---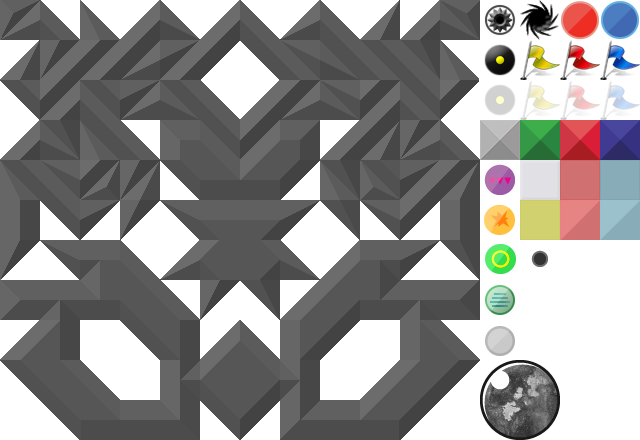 24K
---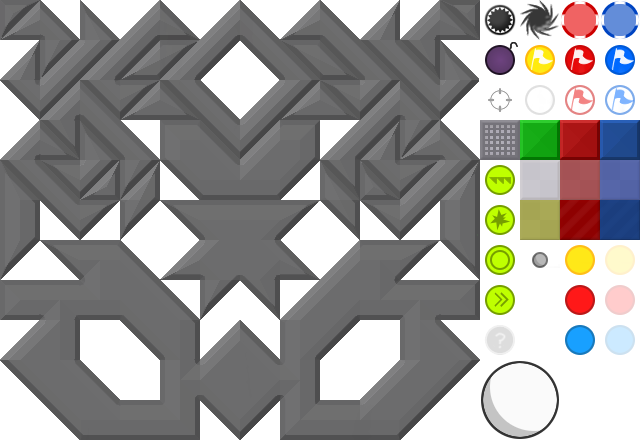 Plumb
---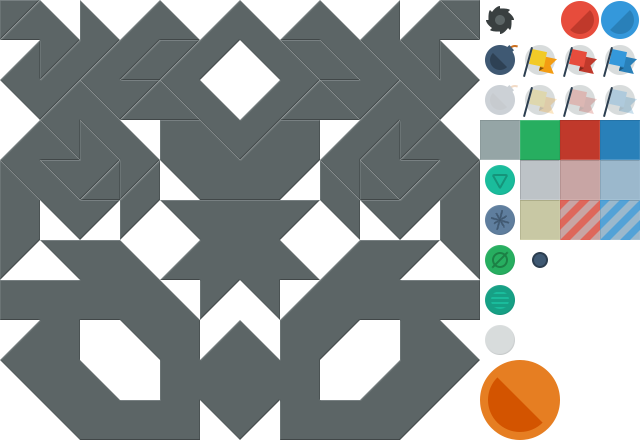 Plique
---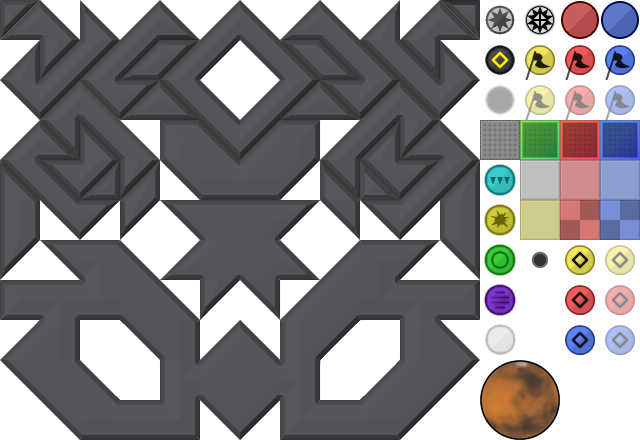 Sparkle
---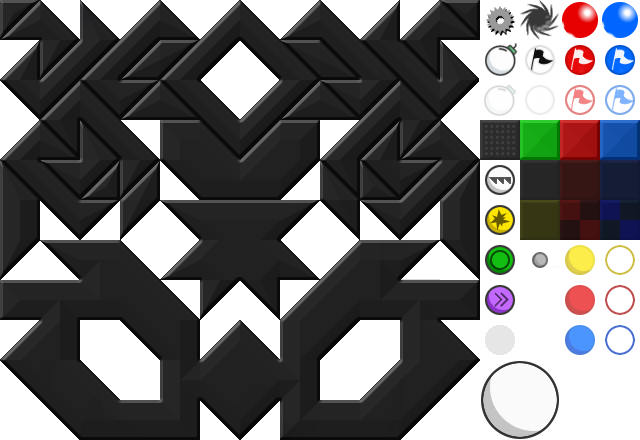 Precision Dark
---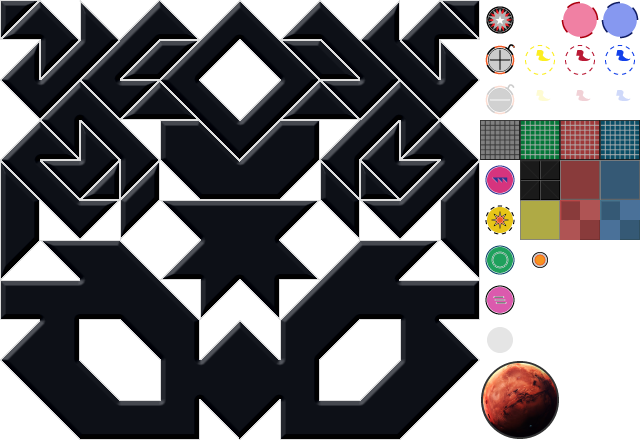 Isometric
---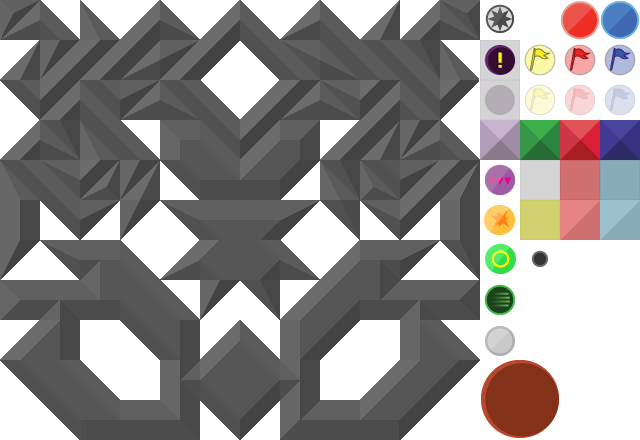 CamsPP Dark
---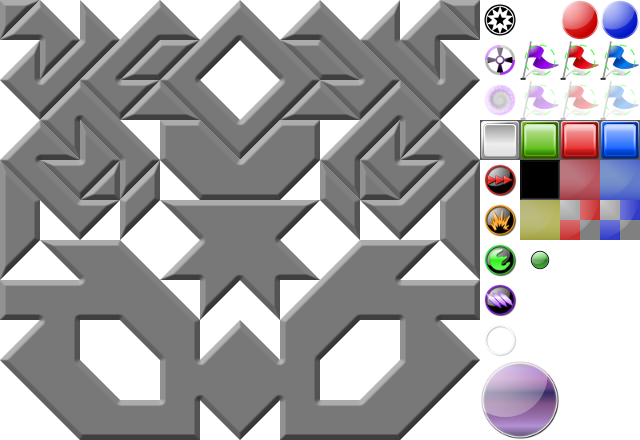 CamsPP Old
---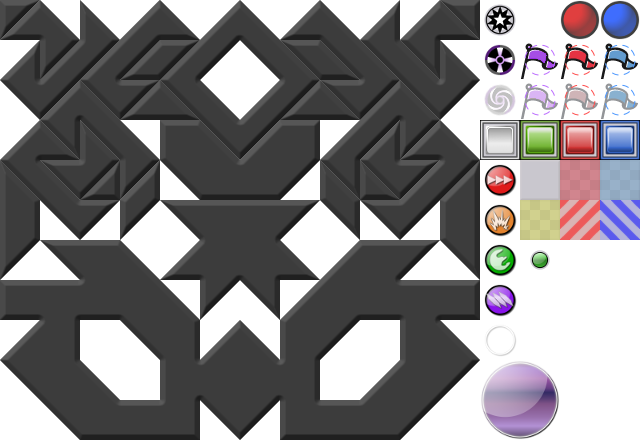 CMYK
---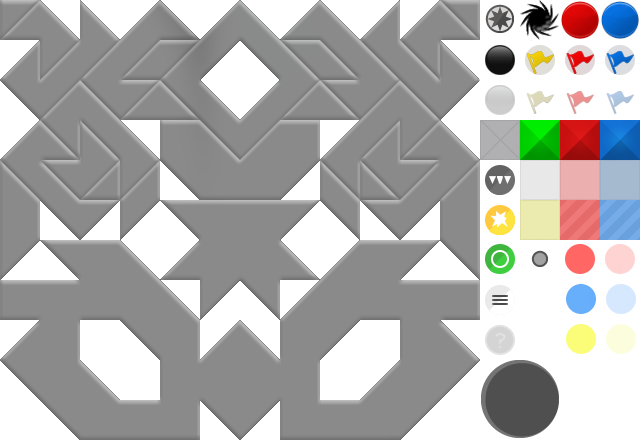 CamsPP Light
---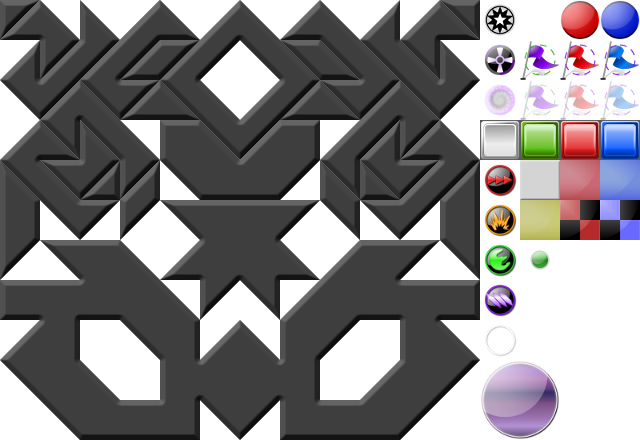 Electric
---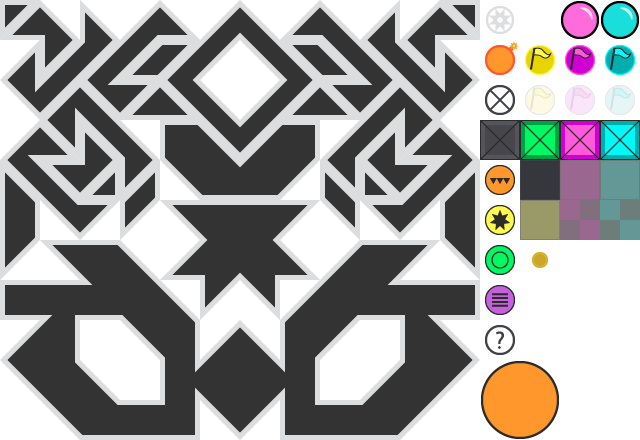 Sketch+
---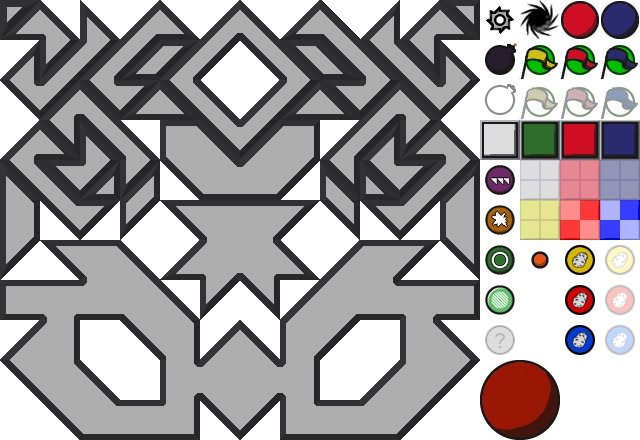 PastelPro
---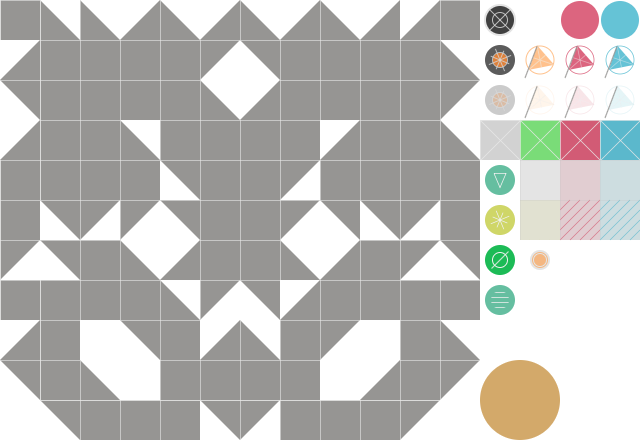 Element+
---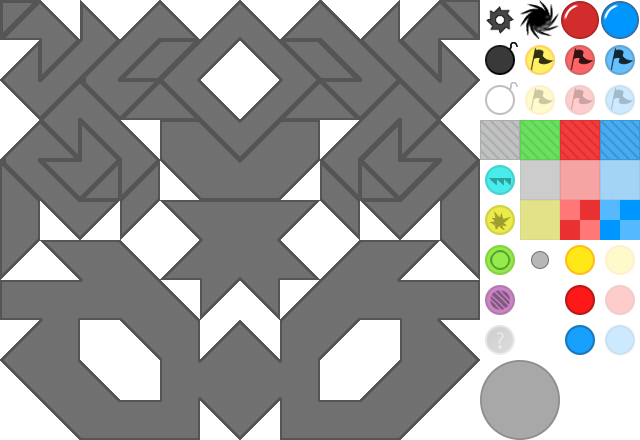 Sharp
---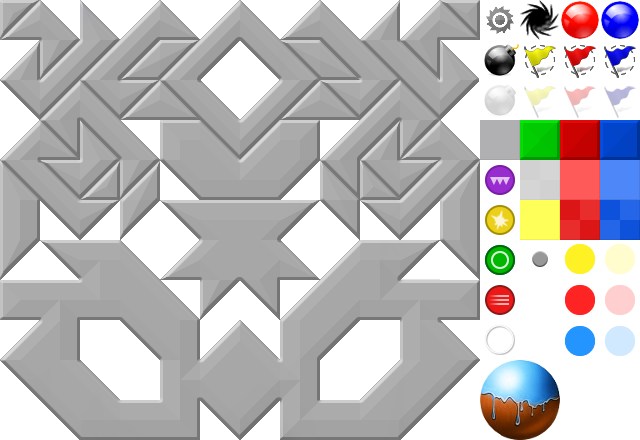 Mural
---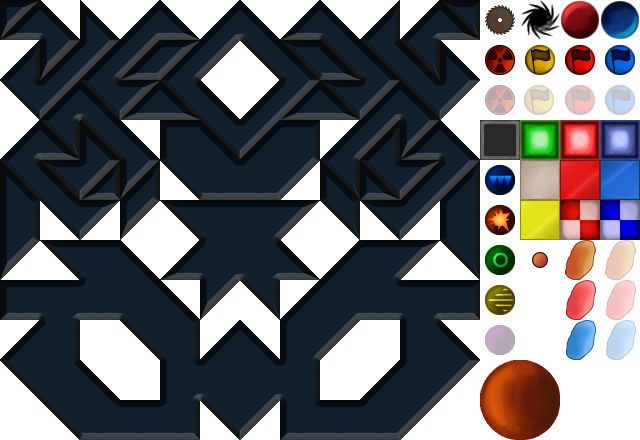 Circlejerk
---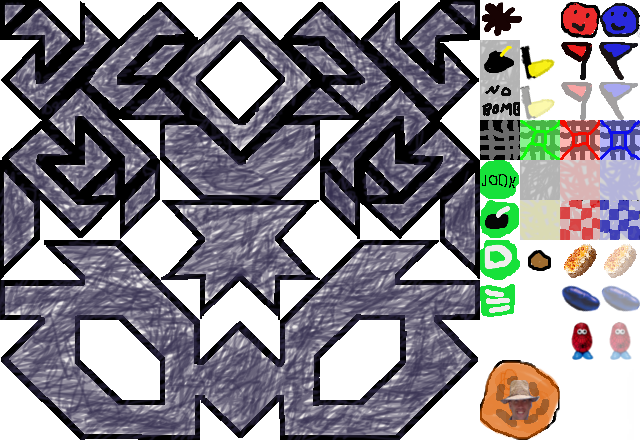 nom
---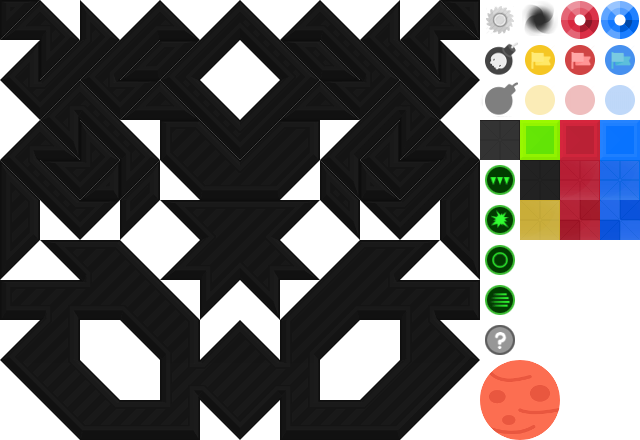 Supreme
---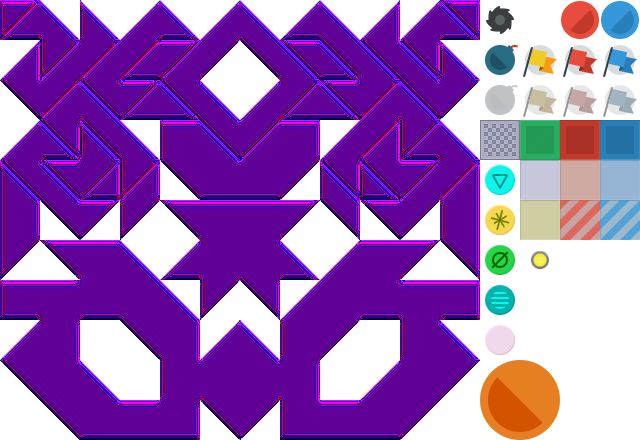 TerminalPX
---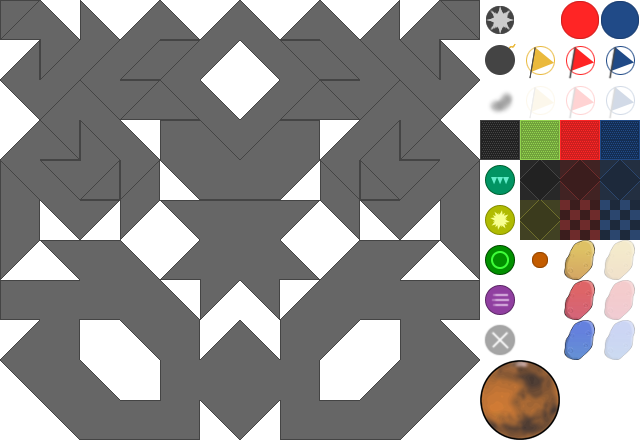 Crystal
---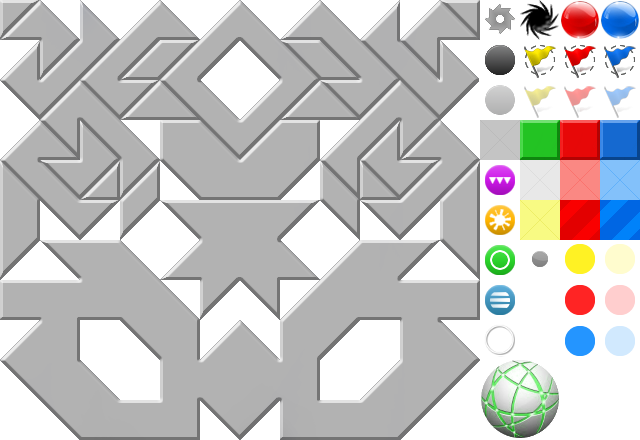 Bold
---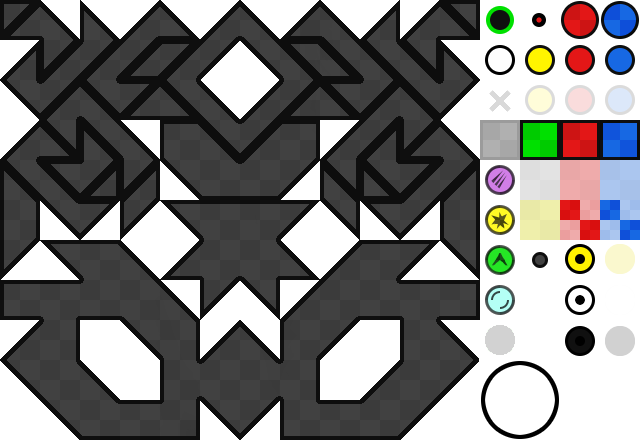 Starlight
---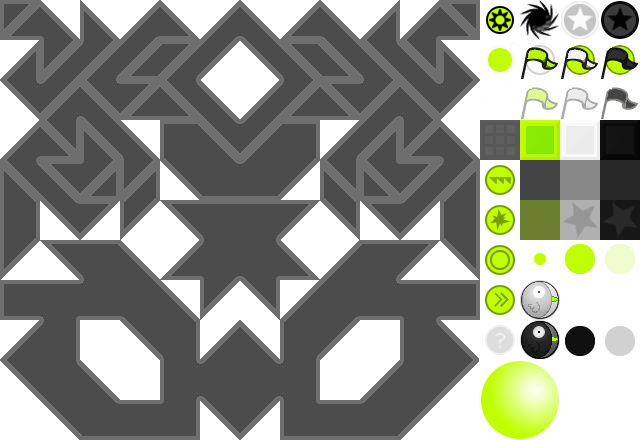 Turbo
---
Celeste
---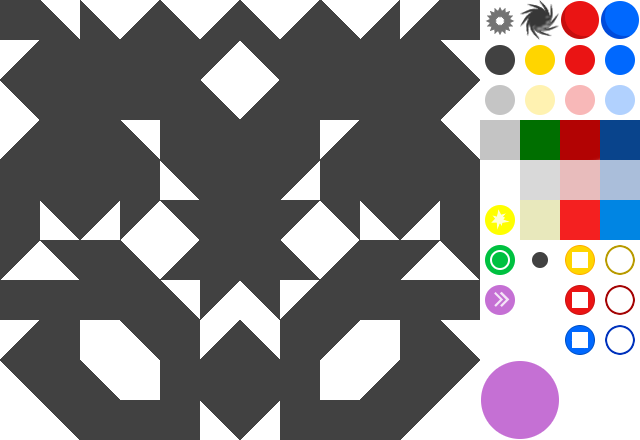 Flat (Bug)
---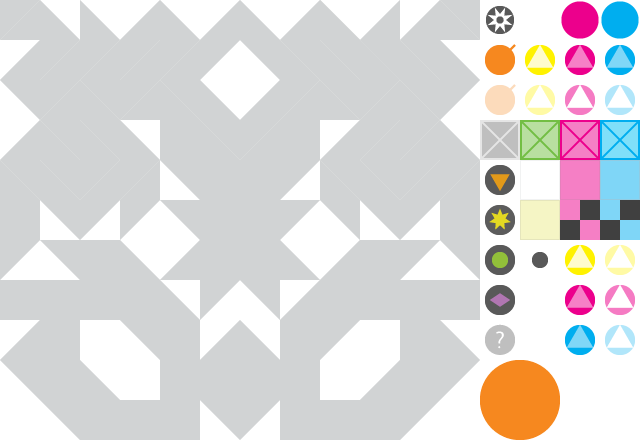 Maxima
---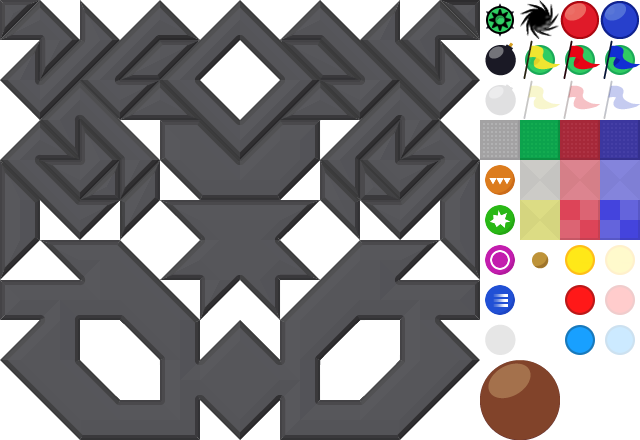 Mumbo
---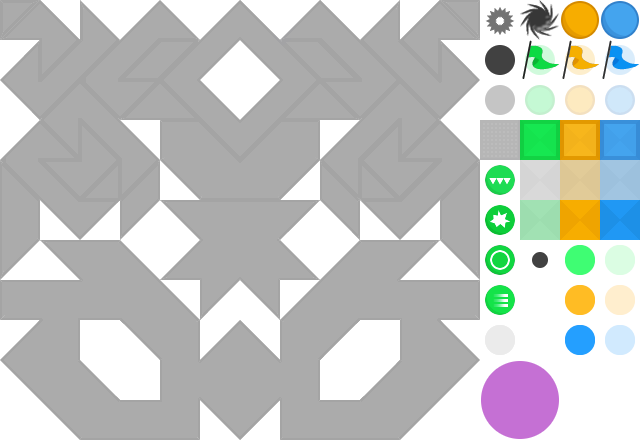 Brioche Deluxe
---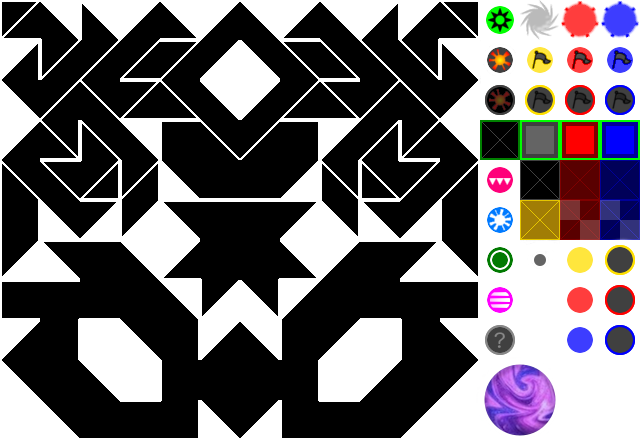 Granata
---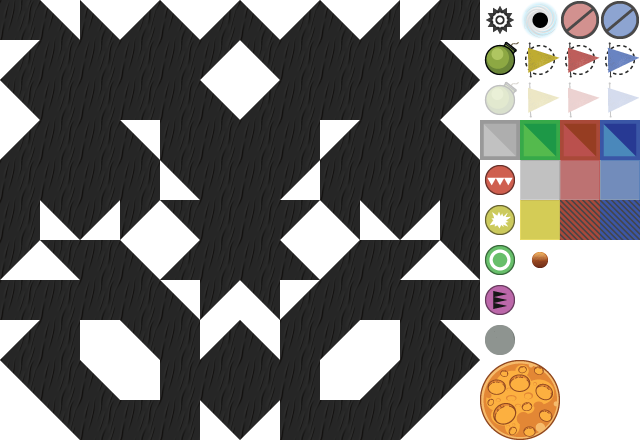 Jello
---
Chip
---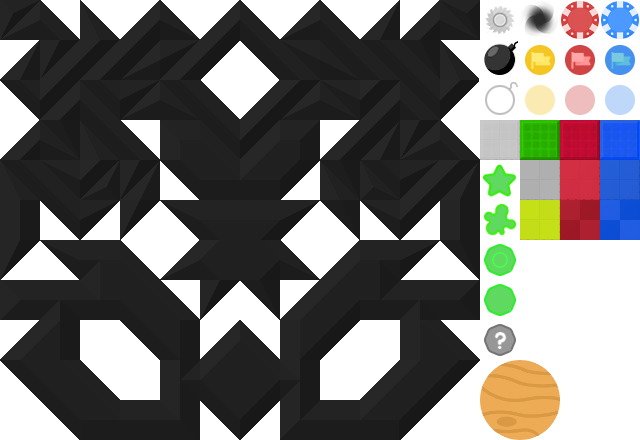 Wave
---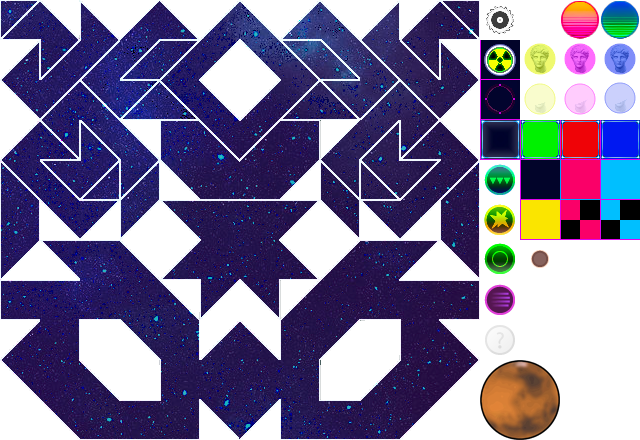 Supreme Shine
---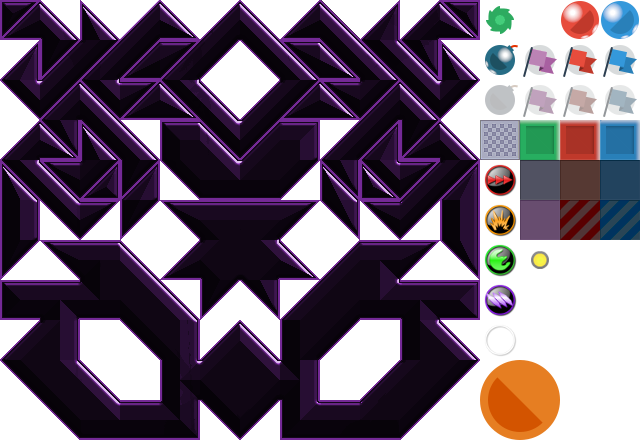 Ancient Gems
---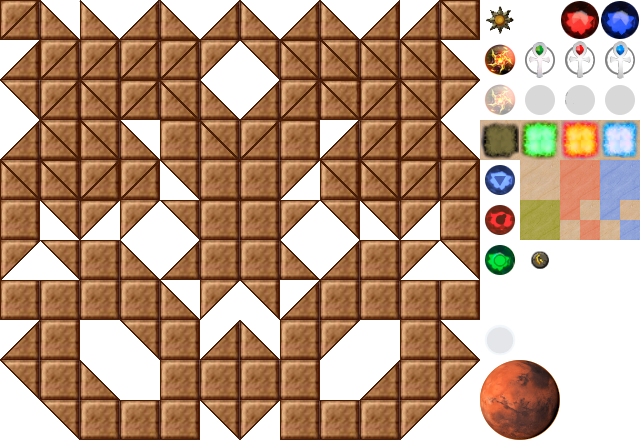 Yin & Yang
---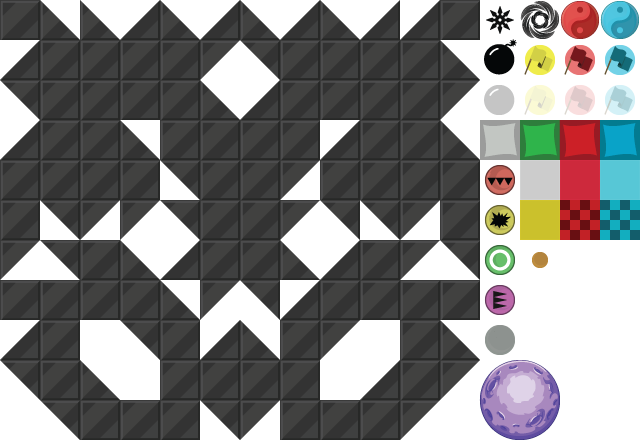 Xmas
---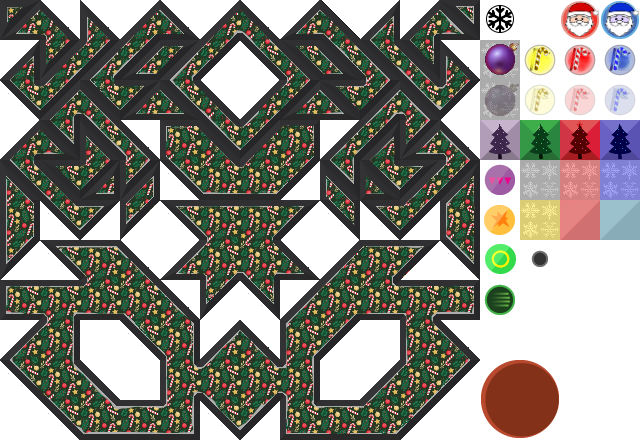 Spongepack
---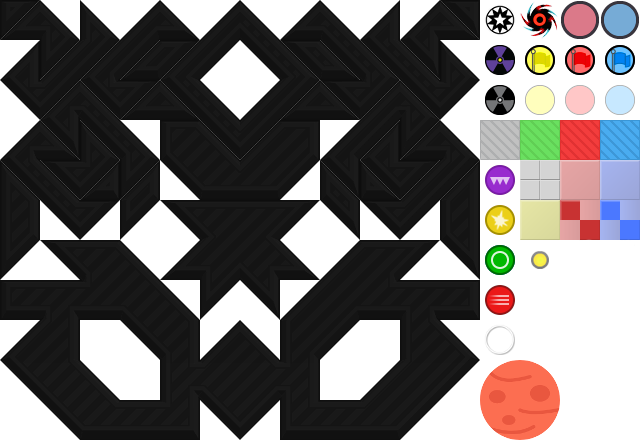 Afloat
---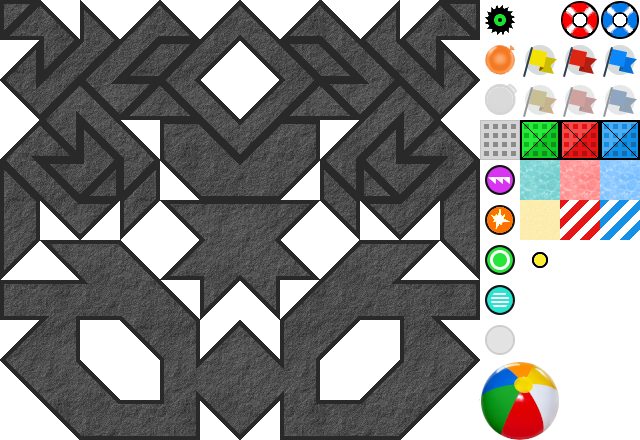 Bowling
---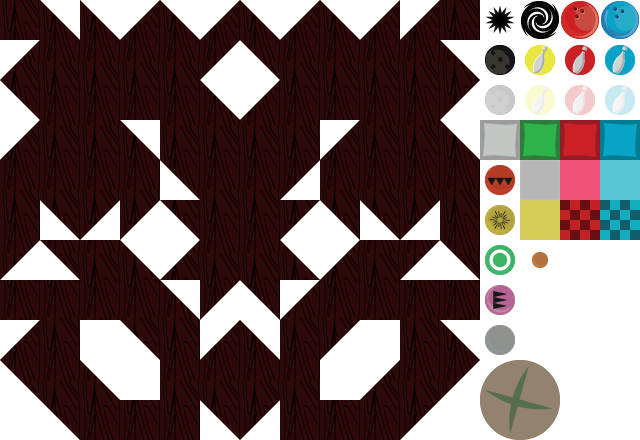 Twine
---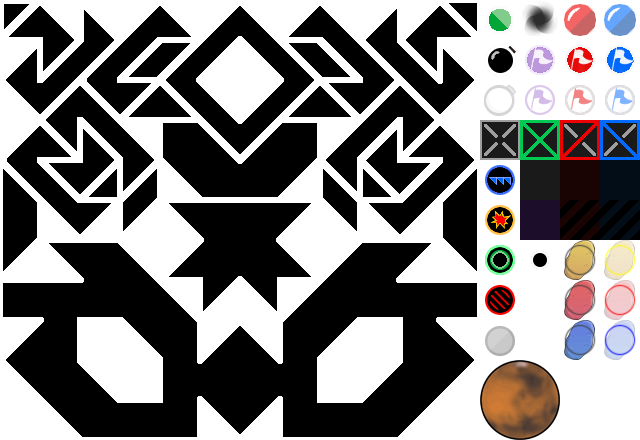 Return
---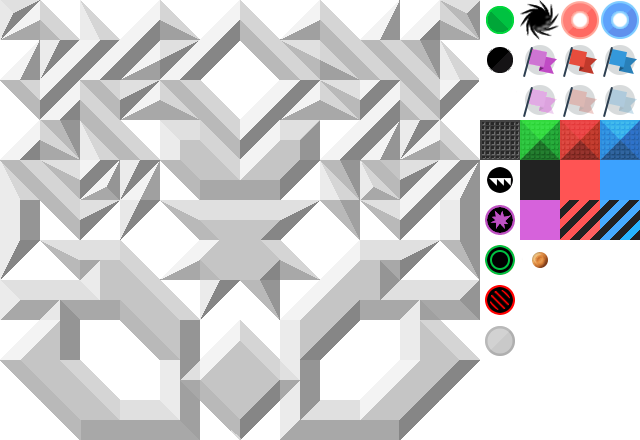 Softpaint
---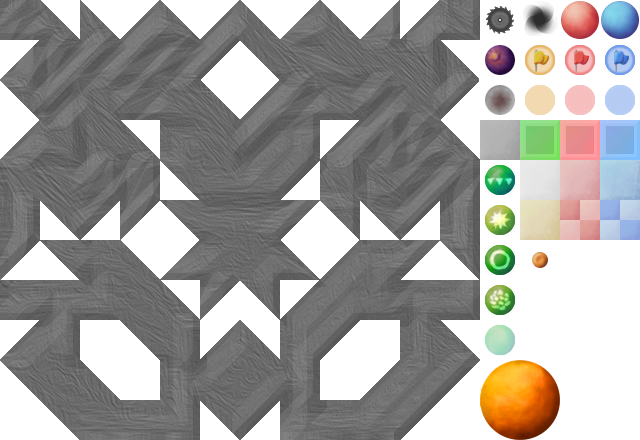 Import a Custom Texture Pack
Use your own texture pack by submitting links to the proper files on the right. Each field expects a full url to a png file. Upload your textures to an image hosting site like Imgur.
You can use the classic textures as a baseplate for creating your own.
More information and themes not officially in TagPro can be found by visiting the TagPro Texture Pack wiki page.
[{"name":"Classic","author":"LuckySpammer","url":"classic","tiles":"/textures/classic/tiles.png","speedpad":"/textures/classic/speedpad.png","speedpadRed":"/textures/classic/speedpadred.png","speedpadBlue":"/textures/classic/speedpadblue.png","portal":"/textures/classic/portal.png","portalRed":"/textures/classic/portalred.png","portalBlue":"/textures/classic/portalblue.png","splats":"/textures/classic/splats.png","popularity":3195150905},{"name":"Sniper Pack","author":"DOKE","url":"sniperpack","tiles":"/textures/sniperpack/tiles.png","speedpad":"/textures/sniperpack/speedpad.png","speedpadRed":"/textures/sniperpack/speedpadred.png","speedpadBlue":"/textures/sniperpack/speedpadblue.png","portal":"/textures/sniperpack/portal.png","portalRed":"/textures/sniperpack/portalred.png","portalBlue":"/textures/sniperpack/portalblue.png","splats":"/textures/sniperpack/splats.png","popularity":1367491225},{"name":"Muscle's Cup Gradients","author":"MuscleCups","url":"musclescupgradients","tiles":"/textures/musclescupgradients/tiles.png","speedpad":"/textures/musclescupgradients/speedpad.png","speedpadRed":"/textures/musclescupgradients/speedpadred.png","speedpadBlue":"/textures/musclescupgradients/speedpadblue.png","portal":"/textures/musclescupgradients/portal.png","portalRed":"/textures/musclescupgradients/portalred.png","portalBlue":"/textures/musclescupgradients/portalblue.png","splats":"/textures/musclescupgradients/splats.png","popularity":1228393080},{"name":"Coral Light","author":"MagicPigeon","url":"corallight","tiles":"/textures/corallight/tiles.png","speedpad":"/textures/corallight/speedpad.png","speedpadRed":"/textures/corallight/speedpadred.png","speedpadBlue":"/textures/corallight/speedpadblue.png","portal":"/textures/corallight/portal.png","portalRed":"/textures/corallight/portalred.png","portalBlue":"/textures/corallight/portalblue.png","splats":"/textures/corallight/splats.png","popularity":1128396855},{"name":"Muscle's Cup OG","author":"MuscleCups","url":"musclescupog","tiles":"/textures/musclescupog/tiles.png","speedpad":"/textures/musclescupog/speedpad.png","speedpadRed":"/textures/musclescupog/speedpadred.png","speedpadBlue":"/textures/musclescupog/speedpadblue.png","portal":"/textures/musclescupog/portal.png","portalRed":"/textures/musclescupog/portalred.png","portalBlue":"/textures/musclescupog/portalblue.png","splats":"/textures/musclescupog/splats.png","popularity":674099139},{"name":"Coral","author":"MagicPigeon","url":"coral","tiles":"/textures/coral/tiles.png","speedpad":"/textures/coral/speedpad.png","speedpadRed":"/textures/coral/speedpadred.png","speedpadBlue":"/textures/coral/speedpadblue.png","portal":"/textures/coral/portal.png","portalRed":"/textures/coral/portalred.png","portalBlue":"/textures/coral/portalblue.png","splats":"/textures/coral/splats.png","popularity":449089454},{"name":"MTBad","author":"mtbkr24","url":"mtbad","tiles":"/textures/mtbad/tiles.png","speedpad":"/textures/mtbad/speedpad.png","speedpadRed":"/textures/mtbad/speedpadred.png","speedpadBlue":"/textures/mtbad/speedpadblue.png","portal":"/textures/mtbad/portal.png","portalRed":"/textures/mtbad/portalred.png","portalBlue":"/textures/mtbad/portalblue.png","splats":"/textures/mtbad/splats.png","popularity":413304258},{"name":"Flat","author":"why","url":"flat","tiles":"/textures/flat/tiles.png","speedpad":"/textures/flat/speedpad.png","speedpadRed":"/textures/flat/speedpadred.png","speedpadBlue":"/textures/flat/speedpadblue.png","portal":"/textures/flat/portal.png","portalRed":"/textures/flat/portalred.png","portalBlue":"/textures/flat/portalblue.png","splats":"/textures/flat/splats.png","popularity":395869096},{"name":"MLTP Live","author":"Ron Spawnson","url":"mltplive","tiles":"/textures/mltplive/tiles.png","speedpad":"/textures/mltplive/speedpad.png","speedpadRed":"/textures/mltplive/speedpadred.png","speedpadBlue":"/textures/mltplive/speedpadblue.png","portal":"/textures/mltplive/portal.png","portalRed":"/textures/mltplive/portalred.png","portalBlue":"/textures/mltplive/portalblue.png","splats":"/textures/mltplive/splats.png","popularity":269775769},{"name":"24K","author":"MagicPigeon","url":"24k","tiles":"/textures/24k/tiles.png","speedpad":"/textures/24k/speedpad.png","speedpadRed":"/textures/24k/speedpadred.png","speedpadBlue":"/textures/24k/speedpadblue.png","portal":"/textures/24k/portal.png","portalRed":"/textures/24k/portalred.png","portalBlue":"/textures/24k/portalblue.png","splats":"/textures/24k/splats.png","popularity":230734729},{"name":"Plumb","author":"SuperTed","url":"plumb","tiles":"/textures/plumb/tiles.png","speedpad":"/textures/plumb/speedpad.png","speedpadRed":"/textures/plumb/speedpadred.png","speedpadBlue":"/textures/plumb/speedpadblue.png","portal":"/textures/plumb/portal.png","portalRed":"/textures/plumb/portalred.png","portalBlue":"/textures/plumb/portalblue.png","splats":"/textures/plumb/splats.png","popularity":184420060},{"name":"Plique","author":"Despair","url":"plique","tiles":"/textures/plique/tiles.png","speedpad":"/textures/plique/speedpad.png","speedpadRed":"/textures/plique/speedpadred.png","speedpadBlue":"/textures/plique/speedpadblue.png","portal":"/textures/plique/portal.png","portalRed":"/textures/plique/portalred.png","portalBlue":"/textures/plique/portalblue.png","splats":"/textures/plique/splats.png","popularity":182872639},{"name":"Sparkle","author":"MagicPigeon","url":"sparkle","tiles":"/textures/sparkle/tiles.png","speedpad":"/textures/sparkle/speedpad.png","speedpadRed":"/textures/sparkle/speedpadred.png","speedpadBlue":"/textures/sparkle/speedpadblue.png","portal":"/textures/sparkle/portal.png","portalRed":"/textures/sparkle/portalred.png","portalBlue":"/textures/sparkle/portalblue.png","splats":"/textures/sparkle/splats.png","popularity":169429800},{"name":"Precision Dark","author":"Peach Fuzz","url":"precisiondark","tiles":"/textures/precisiondark/tiles.png","speedpad":"/textures/precisiondark/speedpad.png","speedpadRed":"/textures/precisiondark/speedpadred.png","speedpadBlue":"/textures/precisiondark/speedpadblue.png","portal":"/textures/precisiondark/portal.png","portalRed":"/textures/precisiondark/portalred.png","portalBlue":"/textures/precisiondark/portalblue.png","splats":"/textures/precisiondark/splats.png","popularity":167094181},{"name":"Isometric","author":"mtbkr24","url":"isometric","tiles":"/textures/isometric/tiles.png","speedpad":"/textures/isometric/speedpad.png","speedpadRed":"/textures/isometric/speedpadred.png","speedpadBlue":"/textures/isometric/speedpadblue.png","portal":"/textures/isometric/portal.png","portalRed":"/textures/isometric/portalred.png","portalBlue":"/textures/isometric/portalblue.png","splats":"/textures/isometric/splats.png","popularity":160815639},{"name":"CamsPP Dark","author":"Cam","url":"camsppdark","tiles":"/textures/camsppdark/tiles.png","speedpad":"/textures/camsppdark/speedpad.png","speedpadRed":"/textures/camsppdark/speedpadred.png","speedpadBlue":"/textures/camsppdark/speedpadblue.png","portal":"/textures/camsppdark/portal.png","portalRed":"/textures/camsppdark/portalred.png","portalBlue":"/textures/camsppdark/portalblue.png","splats":"/textures/camsppdark/splats.png","popularity":159783853},{"name":"CamsPP Old","author":"Cam","url":"camsppold","tiles":"/textures/camsppold/tiles.png","speedpad":"/textures/camsppold/speedpad.png","speedpadRed":"/textures/camsppold/speedpadred.png","speedpadBlue":"/textures/camsppold/speedpadblue.png","portal":"/textures/camsppold/portal.png","portalRed":"/textures/camsppold/portalred.png","portalBlue":"/textures/camsppold/portalblue.png","splats":"/textures/camsppold/splats.png","popularity":154848593},{"name":"CMYK","author":"MagicPigeon","url":"cmyk","tiles":"/textures/cmyk/tiles.png","speedpad":"/textures/cmyk/speedpad.png","speedpadRed":"/textures/cmyk/speedpadred.png","speedpadBlue":"/textures/cmyk/speedpadblue.png","portal":"/textures/cmyk/portal.png","portalRed":"/textures/cmyk/portalred.png","portalBlue":"/textures/cmyk/portalblue.png","splats":"/textures/cmyk/splats.png","popularity":138239954},{"name":"CamsPP Light","author":"Cam","url":"camspplight","tiles":"/textures/camspplight/tiles.png","speedpad":"/textures/camspplight/speedpad.png","speedpadRed":"/textures/camspplight/speedpadred.png","speedpadBlue":"/textures/camspplight/speedpadblue.png","portal":"/textures/camspplight/portal.png","portalRed":"/textures/camspplight/portalred.png","portalBlue":"/textures/camspplight/portalblue.png","splats":"/textures/camspplight/splats.png","popularity":127254766},{"name":"Electric","author":"Bug","url":"electric","tiles":"/textures/electric/tiles.png","speedpad":"/textures/electric/speedpad.png","speedpadRed":"/textures/electric/speedpadred.png","speedpadBlue":"/textures/electric/speedpadblue.png","portal":"/textures/electric/portal.png","portalRed":"/textures/electric/portalred.png","portalBlue":"/textures/electric/portalblue.png","splats":"/textures/electric/splats.png","popularity":123075416},{"name":"Sketch+","author":"MagicPigeon","url":"sketch","tiles":"/textures/sketch/tiles.png","speedpad":"/textures/sketch/speedpad.png","speedpadRed":"/textures/sketch/speedpadred.png","speedpadBlue":"/textures/sketch/speedpadblue.png","portal":"/textures/sketch/portal.png","portalRed":"/textures/sketch/portalred.png","portalBlue":"/textures/sketch/portalblue.png","splats":"/textures/sketch/splats.png","popularity":121061294},{"name":"PastelPro","author":"SuperTed","url":"pastelpro","tiles":"/textures/pastelpro/tiles.png","speedpad":"/textures/pastelpro/speedpad.png","speedpadRed":"/textures/pastelpro/speedpadred.png","speedpadBlue":"/textures/pastelpro/speedpadblue.png","portal":"/textures/pastelpro/portal.png","portalRed":"/textures/pastelpro/portalred.png","portalBlue":"/textures/pastelpro/portalblue.png","splats":"/textures/pastelpro/splats.png","popularity":115824349},{"name":"Element+","author":"MagicPigeon","url":"element","tiles":"/textures/element/tiles.png","speedpad":"/textures/element/speedpad.png","speedpadRed":"/textures/element/speedpadred.png","speedpadBlue":"/textures/element/speedpadblue.png","portal":"/textures/element/portal.png","portalRed":"/textures/element/portalred.png","portalBlue":"/textures/element/portalblue.png","splats":"/textures/element/splats.png","popularity":103425615},{"name":"Sharp","author":"MagicPigeon","url":"sharp","tiles":"/textures/sharp/tiles.png","speedpad":"/textures/sharp/speedpad.png","speedpadRed":"/textures/sharp/speedpadred.png","speedpadBlue":"/textures/sharp/speedpadblue.png","portal":"/textures/sharp/portal.png","portalRed":"/textures/sharp/portalred.png","portalBlue":"/textures/sharp/portalblue.png","splats":"/textures/sharp/splats.png","popularity":91386266},{"name":"Mural","author":"DaEvil1","url":"mural","tiles":"/textures/mural/tiles.png","speedpad":"/textures/mural/speedpad.png","speedpadRed":"/textures/mural/speedpadred.png","speedpadBlue":"/textures/mural/speedpadblue.png","portal":"/textures/mural/portal.png","portalRed":"/textures/mural/portalred.png","portalBlue":"/textures/mural/portalblue.png","splats":"/textures/mural/splats.png","popularity":78112054},{"name":"Circlejerk","author":"Bizkut and Ion","url":"circlejerk","tiles":"/textures/circlejerk/tiles.png","speedpad":"/textures/circlejerk/speedpad.png","speedpadRed":"/textures/circlejerk/speedpadred.png","speedpadBlue":"/textures/circlejerk/speedpadblue.png","portal":"/textures/circlejerk/portal.png","portalRed":"/textures/circlejerk/portalred.png","portalBlue":"/textures/circlejerk/portalblue.png","splats":"/textures/circlejerk/splats.png","popularity":69936101},{"name":"nom","author":"anom","url":"nom","tiles":"/textures/nom/tiles.png","speedpad":"/textures/nom/speedpad.png","speedpadRed":"/textures/nom/speedpadred.png","speedpadBlue":"/textures/nom/speedpadblue.png","portal":"/textures/nom/portal.png","portalRed":"/textures/nom/portalred.png","portalBlue":"/textures/nom/portalblue.png","splats":"/textures/nom/splats.png","popularity":69248062},{"name":"Supreme","author":"bicycle","url":"supreme","tiles":"/textures/supreme/tiles.png","speedpad":"/textures/supreme/speedpad.png","speedpadRed":"/textures/supreme/speedpadred.png","speedpadBlue":"/textures/supreme/speedpadblue.png","portal":"/textures/supreme/portal.png","portalRed":"/textures/supreme/portalred.png","portalBlue":"/textures/supreme/portalblue.png","splats":"/textures/supreme/splats.png","popularity":66374522},{"name":"TerminalPX","author":"pooppants","url":"terminalpx","tiles":"/textures/terminalpx/tiles.png","speedpad":"/textures/terminalpx/speedpad.png","speedpadRed":"/textures/terminalpx/speedpadred.png","speedpadBlue":"/textures/terminalpx/speedpadblue.png","portal":"/textures/terminalpx/portal.png","portalRed":"/textures/terminalpx/portalred.png","portalBlue":"/textures/terminalpx/portalblue.png","splats":"/textures/terminalpx/splats.png","popularity":50525335},{"name":"Crystal","author":"MagicPigeon","url":"crystal","tiles":"/textures/crystal/tiles.png","speedpad":"/textures/crystal/speedpad.png","speedpadRed":"/textures/crystal/speedpadred.png","speedpadBlue":"/textures/crystal/speedpadblue.png","portal":"/textures/crystal/portal.png","portalRed":"/textures/crystal/portalred.png","portalBlue":"/textures/crystal/portalblue.png","splats":"/textures/crystal/splats.png","popularity":48241476},{"name":"Bold","author":"MagicPigeon","url":"bold","tiles":"/textures/bold/tiles.png","speedpad":"/textures/bold/speedpad.png","speedpadRed":"/textures/bold/speedpadred.png","speedpadBlue":"/textures/bold/speedpadblue.png","portal":"/textures/bold/portal.png","portalRed":"/textures/bold/portalred.png","portalBlue":"/textures/bold/portalblue.png","splats":"/textures/bold/splats.png","popularity":47306372},{"name":"Starlight","author":"MagicPigeon","url":"starlight","tiles":"/textures/starlight/tiles.png","speedpad":"/textures/starlight/speedpad.png","speedpadRed":"/textures/starlight/speedpadred.png","speedpadBlue":"/textures/starlight/speedpadblue.png","portal":"/textures/starlight/portal.png","portalRed":"/textures/starlight/portalred.png","portalBlue":"/textures/starlight/portalblue.png","splats":"/textures/starlight/splats.png","popularity":43487593},{"name":"Turbo","author":"Ooops","url":"turbo","tiles":"/textures/turbo/tiles.png","speedpad":"/textures/turbo/speedpad.png","speedpadRed":"/textures/turbo/speedpadred.png","speedpadBlue":"/textures/turbo/speedpadblue.png","portal":"/textures/turbo/portal.png","portalRed":"/textures/turbo/portalred.png","portalBlue":"/textures/turbo/portalblue.png","splats":"/textures/turbo/splats.png","popularity":38133475},{"name":"Celeste","author":"MagicPigeon","url":"celeste","tiles":"/textures/celeste/tiles.png","speedpad":"/textures/celeste/speedpad.png","speedpadRed":"/textures/celeste/speedpadred.png","speedpadBlue":"/textures/celeste/speedpadblue.png","portal":"/textures/celeste/portal.png","portalRed":"/textures/celeste/portalred.png","portalBlue":"/textures/celeste/portalblue.png","splats":"/textures/celeste/splats.png","popularity":33070894},{"name":"Flat (Bug)","author":"Bug","url":"flatbug","tiles":"/textures/flatbug/tiles.png","speedpad":"/textures/flatbug/speedpad.png","speedpadRed":"/textures/flatbug/speedpadred.png","speedpadBlue":"/textures/flatbug/speedpadblue.png","portal":"/textures/flatbug/portal.png","portalRed":"/textures/flatbug/portalred.png","portalBlue":"/textures/flatbug/portalblue.png","splats":"/textures/flatbug/splats.png","popularity":29794424},{"name":"Maxima","author":"MagicPigeon","url":"maxima","tiles":"/textures/maxima/tiles.png","speedpad":"/textures/maxima/speedpad.png","speedpadRed":"/textures/maxima/speedpadred.png","speedpadBlue":"/textures/maxima/speedpadblue.png","portal":"/textures/maxima/portal.png","portalRed":"/textures/maxima/portalred.png","portalBlue":"/textures/maxima/portalblue.png","splats":"/textures/maxima/splats.png","popularity":29301749},{"name":"Mumbo","author":"MagicPigeon","url":"mumbo","tiles":"/textures/mumbo/tiles.png","speedpad":"/textures/mumbo/speedpad.png","speedpadRed":"/textures/mumbo/speedpadred.png","speedpadBlue":"/textures/mumbo/speedpadblue.png","portal":"/textures/mumbo/portal.png","portalRed":"/textures/mumbo/portalred.png","portalBlue":"/textures/mumbo/portalblue.png","splats":"/textures/mumbo/splats.png","popularity":28546543},{"name":"Brioche Deluxe","author":"Bumballbee and Brioche","url":"briochedeluxe","tiles":"/textures/briochedeluxe/tiles.png","speedpad":"/textures/briochedeluxe/speedpad.png","speedpadRed":"/textures/briochedeluxe/speedpadred.png","speedpadBlue":"/textures/briochedeluxe/speedpadblue.png","portal":"/textures/briochedeluxe/portal.png","portalRed":"/textures/briochedeluxe/portalred.png","portalBlue":"/textures/briochedeluxe/portalblue.png","splats":"/textures/briochedeluxe/splats.png","popularity":27574388},{"name":"Granata","author":"_Coffee_","url":"granata","tiles":"/textures/granata/tiles.png","speedpad":"/textures/granata/speedpad.png","speedpadRed":"/textures/granata/speedpadred.png","speedpadBlue":"/textures/granata/speedpadblue.png","portal":"/textures/granata/portal.png","portalRed":"/textures/granata/portalred.png","portalBlue":"/textures/granata/portalblue.png","splats":"/textures/granata/splats.png","popularity":27348105},{"name":"Jello","author":"MC Ride","url":"jello","tiles":"/textures/jello/tiles.png","speedpad":"/textures/jello/speedpad.png","speedpadRed":"/textures/jello/speedpadred.png","speedpadBlue":"/textures/jello/speedpadblue.png","portal":"/textures/jello/portal.png","portalRed":"/textures/jello/portalred.png","portalBlue":"/textures/jello/portalblue.png","splats":"/textures/jello/splats.png","popularity":18359127},{"name":"Chip","author":"anom","url":"chip","tiles":"/textures/chip/tiles.png","speedpad":"/textures/chip/speedpad.png","speedpadRed":"/textures/chip/speedpadred.png","speedpadBlue":"/textures/chip/speedpadblue.png","portal":"/textures/chip/portal.png","portalRed":"/textures/chip/portalred.png","portalBlue":"/textures/chip/portalblue.png","splats":"/textures/chip/splats.png","popularity":17892846},{"name":"Wave","author":"Waterwheel","url":"wave","tiles":"/textures/wave/tiles.png","speedpad":"/textures/wave/speedpad.png","speedpadRed":"/textures/wave/speedpadred.png","speedpadBlue":"/textures/wave/speedpadblue.png","portal":"/textures/wave/portal.png","portalRed":"/textures/wave/portalred.png","portalBlue":"/textures/wave/portalblue.png","splats":"/textures/wave/splats.png","popularity":16923966},{"name":"Supreme Shine","author":"Flaccid Trip","url":"supremeshine","tiles":"/textures/supremeshine/tiles.png","speedpad":"/textures/supremeshine/speedpad.png","speedpadRed":"/textures/supremeshine/speedpadred.png","speedpadBlue":"/textures/supremeshine/speedpadblue.png","portal":"/textures/supremeshine/portal.png","portalRed":"/textures/supremeshine/portalred.png","portalBlue":"/textures/supremeshine/portalblue.png","splats":"/textures/supremeshine/splats.png","popularity":8012199},{"name":"Ancient Gems","author":"Flaccid Trip ft. jazzz","url":"ancientgems","tiles":"/textures/ancientgems/tiles.png","speedpad":"/textures/ancientgems/speedpad.png","speedpadRed":"/textures/ancientgems/speedpadred.png","speedpadBlue":"/textures/ancientgems/speedpadblue.png","portal":"/textures/ancientgems/portal.png","portalRed":"/textures/ancientgems/portalred.png","portalBlue":"/textures/ancientgems/portalblue.png","splats":"/textures/ancientgems/splats.png","popularity":7106597},{"name":"Yin & Yang","author":"_Coffee_","url":"yinyang","tiles":"/textures/yinyang/tiles.png","speedpad":"/textures/yinyang/speedpad.png","speedpadRed":"/textures/yinyang/speedpadred.png","speedpadBlue":"/textures/yinyang/speedpadblue.png","portal":"/textures/yinyang/portal.png","portalRed":"/textures/yinyang/portalred.png","portalBlue":"/textures/yinyang/portalblue.png","splats":"/textures/yinyang/splats.png","popularity":4397313},{"name":"Xmas","author":"jazzz","url":"xmas","tiles":"/textures/xmas/tiles.png","speedpad":"/textures/xmas/speedpad.png","speedpadRed":"/textures/xmas/speedpadred.png","speedpadBlue":"/textures/xmas/speedpadblue.png","portal":"/textures/xmas/portal.png","portalRed":"/textures/xmas/portalred.png","portalBlue":"/textures/xmas/portalblue.png","splats":"/textures/xmas/splats.png","popularity":3470226},{"name":"Spongepack","author":"_Coffee_","url":"spongepack","tiles":"/textures/spongepack/tiles.png","speedpad":"/textures/spongepack/speedpad.png","speedpadRed":"/textures/spongepack/speedpadred.png","speedpadBlue":"/textures/spongepack/speedpadblue.png","portal":"/textures/spongepack/portal.png","portalRed":"/textures/spongepack/portalred.png","portalBlue":"/textures/spongepack/portalblue.png","splats":"/textures/spongepack/splats.png","popularity":2650086},{"name":"Afloat","author":"Pingu","url":"afloat","tiles":"/textures/afloat/tiles.png","speedpad":"/textures/afloat/speedpad.png","speedpadRed":"/textures/afloat/speedpadred.png","speedpadBlue":"/textures/afloat/speedpadblue.png","portal":"/textures/afloat/portal.png","portalRed":"/textures/afloat/portalred.png","portalBlue":"/textures/afloat/portalblue.png","splats":"/textures/afloat/splats.png","popularity":2088767},{"name":"Bowling","author":"_Coffee_","url":"bowling","tiles":"/textures/bowling/tiles.png","speedpad":"/textures/bowling/speedpad.png","speedpadRed":"/textures/bowling/speedpadred.png","speedpadBlue":"/textures/bowling/speedpadblue.png","portal":"/textures/bowling/portal.png","portalRed":"/textures/bowling/portalred.png","portalBlue":"/textures/bowling/portalblue.png","splats":"/textures/bowling/splats.png","popularity":1375940},{"name":"Twine","author":"Flaccid Trip","url":"twine","tiles":"/textures/twine/tiles.png","speedpad":"/textures/twine/speedpad.png","speedpadRed":"/textures/twine/speedpadred.png","speedpadBlue":"/textures/twine/speedpadblue.png","portal":"/textures/twine/portal.png","portalRed":"/textures/twine/portalred.png","portalBlue":"/textures/twine/portalblue.png","splats":"/textures/twine/splats.png","popularity":257858},{"name":"Return","author":"Flaccid Trip","url":"return","tiles":"/textures/return/tiles.png","speedpad":"/textures/return/speedpad.png","speedpadRed":"/textures/return/speedpadred.png","speedpadBlue":"/textures/return/speedpadblue.png","portal":"/textures/return/portal.png","portalRed":"/textures/return/portalred.png","portalBlue":"/textures/return/portalblue.png","splats":"/textures/return/splats.png","popularity":130446},{"name":"Softpaint","author":"Xcissors ft. anom","url":"softpaint","tiles":"/textures/softpaint/tiles.png","speedpad":"/textures/softpaint/speedpad.png","speedpadRed":"/textures/softpaint/speedpadred.png","speedpadBlue":"/textures/softpaint/speedpadblue.png","portal":"/textures/softpaint/portal.png","portalRed":"/textures/softpaint/portalred.png","portalBlue":"/textures/softpaint/portalblue.png","splats":"/textures/softpaint/splats.png","popularity":0}]
false
false